Our athlete focus this month is Kathy Merz. If you ask anyone at CrossFit Thunderbolt, they will unanimously tell you that Kathy is a favorite. She's a favorite because she's positive, she's inclusive, and she's incredibly strong (Her strength rubs off on whoever works out next to her. Whether it's a good, old fashioned Bro-sesh or an olympic lifting night – it's proven scientifically that lifting next to Kathy makes you 25% stronger!!)   Kathy has true integrity in her movements (we've seen her no-rep herself, and we know she no-reps herself sometimes when noone is looking).  She works on her weaknesses with determination. She's a friend to all who know her, she's someone who is trustworthy,  and she's fun.
 
1.Why did you choose CrossFit? Why CrossFit Thunderbolt?  I heard about CF a few years ago from Coach Ryan who I was training with. He thought I would be good at it so he started having me do some wods when we trained. After a few wods in, I was hooked. I loved the rush of how it made me feel- to push myself to the limit and make me do things I never thought I could do. I also loved the challenge it offered and the different yet functional movements it provided. Once I started and saw what it was about I knew it was something I wanted to do!
I chose CF Thunderbolt b/c I had been doing CF the non-traditional way for a year at Rush Copley. I remember seeing Thunderbolt was offering one day free to come in and check it out and I thought why not go and get a good workout in. I had come in with someone else one time in the summer prior to that day and it was a ton of fun. It took me awhile to join a CF gym b/c I was kind of particular in what I wanted and what they would offer so I ended up doing the month trial to see if I would like it. I remember Coach Molly telling me just try it for the month and see if it is the right place for me and once I started within the first week I knew this is where I was going to go. I loved the people here and the environment! I really appreciated the smaller class sizes so you can have more 1 on 1 with the coaches b/c I felt it would be able to help me with what I needed most from CF. I also enjoyed all the amazing coaches b/c each one of them gave you insight or perspective on movements that helps everyone become a better athlete everyday. Plus all the people here and how supportive each person was to each other. It's such a positive environment and I really thrive on that!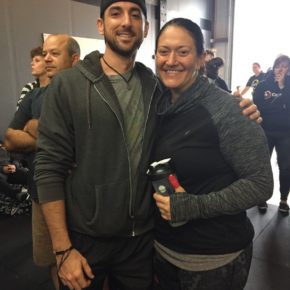 2.What inspires you? I get inspired by so many things! Athletes who are better than me… I enjoy the push they give me since I want to keep up with them so I work harder to try to keep up with them. Also watching them helps me attack my weaknesses and become a better athlete b/c when I see them do something I can't I think one day I will do that!. I also get inspired by everyone who PR's a movement, is excited about a WOD and does well, accomplishes a goal they had, or anything that is fun and exciting!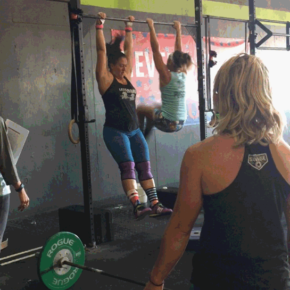 3. What has been your favorite WOD so far? Worse WOD? My favorite wod I would say is Grace 🙂 but honestly I do really enjoy the wods with movements that have my weaknesses in them b/c it reminds me of what I need to work on still. As for worst wod there isn't one that stands out but probably ones that have my weaknesses in them b/c I can't do them effectively yet. Don't get me wrong there are some bad ones but never one that I say never again…b/c you know I will easily do it again if someone wants to do it with me! 🙂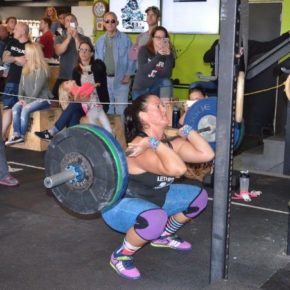 4. What's your favorite lift? My favorite lift….Cleans for sure! But lately the snatch is one I am enjoying b/c it is so technical and I want to make sure I am doing it correct.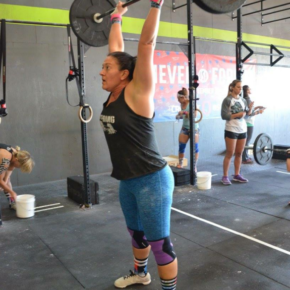 5. What surprised you about CrossFit? I was very surprised by how much the community comes together to support each other for everything! It's amazing how everyone feels so excited for each other like its their own accomplishments. Its refreshing to see that nowadays!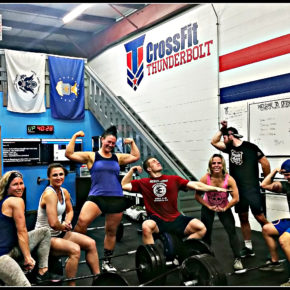 6. Interesting fact about you?  This was a tough question but I guess I would say – when I am frustrated, cooking and coloring calm me down. I really enjoy cooking and have been told I am really good at it. If I had more time I would cook a heck of a lot more but I keep it simple for me since I feel like I have no time especially during the school year.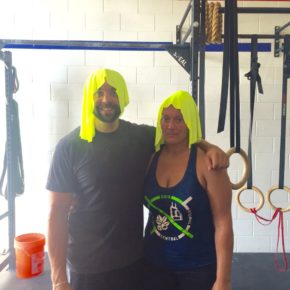 7. How long have you been with us at CFTB? And what drove you to take the plunge? I have been at CF Thunderbolt for a year and 3 months almost…YEAH!!!!!!. I tried out the month trial and after the inviting environment, group of people here, coaches, wods programmed, and the girls barbell bar (I learned on a guys bar up until this point), I thought I want to come here and this was the right place for me!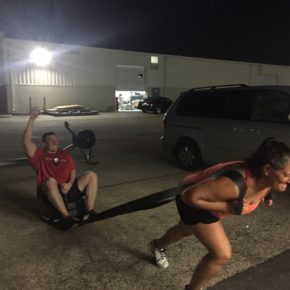 8. Tell us a typical day in the life of Kathy.  My day is divided into two categories… School year days….wake up, put comfy workout clothes on for work…YESSSSS!, eat breakfast in the car on my way to work every morning, at work deal with 8th graders all day, leave work at 3pm, workout at 4pm until ?, go home, shower, eat, prep my food for the following day, sometimes grade papers, then bed…repeat next day except weekends when I enjoy my days off from work! 🙂 Summertime days…workout, pool, workout, eat, enjoy and live it up, workout, relax..in any order! Hahaha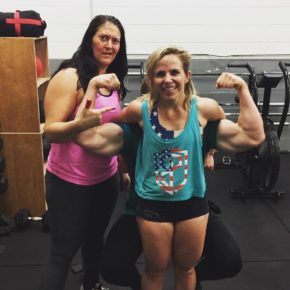 9. Tell us an insider secret about yourself that nobody here knows. Make it spicy. I am in awe of sea life specifically dolphins and whales. I was once in the Shamu show at Sea World and while I was doing the show with the trainers…I apparently gave a boob shot to the entire audience on the big screen not realizing it! It was one of my favorite moments to work with the whales yet not so much for everyone else hahaha!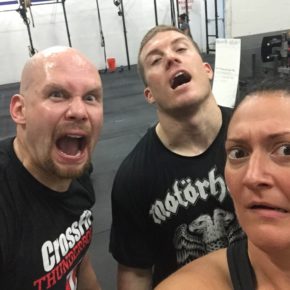 10. Lay it on us. The "Kathy" workout – what would it be?   And what would the song or artist to go with it be? The Kathy workout…it would be a partner wod with cleans, wall balls, tire flips, fireman carry, and a few movements I am not so great at such as pull-ups or HSPU..got to work on those weaknesses still somehow! But then end with a cardio burner on the bike…oh the bike! 🙂 As for the music….anything LOUD hard rock, metal, alternative type music to get me pumped. I don't have a particular song but I like many of the 4pm music play list.
11. If you could have the ultimate cheat meal, with no negative consequences, what would it be? As for the ultimate cheat meal….pizza, with a huge plate of nachos with all the fixings, bottle of sangria, with mint chocolate chip ice cream from baskin robbins with TONS of sprinkles!!!!!