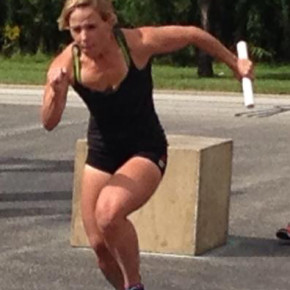 Owner, Coach
I did not participate in sports when I was growing up.  In fact, I avoided sports at all cost!  But as a young mother, I finally decided that I wanted to become active and more healthy.  At that time, I was very motivated by just getting out the door and run/walking a little more every day, pushing my babies in the jogger.  Over time, I lost about 30 pounds and became a more serious runner, completing 3 marathons, scores of half-marathons and shorter races, a triathlon, and many obstacle course races.  But like many runners, I started to experience over-use injuries, and I realized that I needed to also incorporate weight training.  I joined a local gym and started training to get strong and injury-proof. 
But the missing piece in my life, as it turned out, was Crossfit.  My husband and my younger brother teased me about my local "chain" gym, and continued to challenge me to give Crossfit a try…. after a few years, I finally did!  Not only did I find that Crossfit improved my running, but it made me stronger and less prone to injury.  I fell in love with the community aspect of Crossfit – seeing how everyone encourages and cheers for each other – and I also fell in love with the competitive mindset, going head-to-head with others in workouts, and always trying to be better than I was yesterday.  This was something which had been missing in all of my other gym experiences.  
Today, at 39, I continue to not only set PR's in my running, but also in my strength and weightlifting….faster and stronger than yesterday.  As a coach, my goal is to foster a supportive and challenging community atmosphere, and to give everyone the tools they need to achieve their goals – from the endurance junkies, to the newcomers just wanting to get active, to those who have very specific strength and competition goals, to those who just love Crossfit.
Certifications:
Crossfit L1 Trainer
Crossfit Endurance
USA Weightlifting Sports Performance Coach
Spartan SGX Coach
RRCA Distance Running Coach
NASM certified personal trainer
CPR/AED and First Aid